Gloria is dedicated and committed to give every organization and individual the very best. She realizes that every need is different and finds the process of "customizing" and "tailoring" her programs a rewarding "win" for everyone. Her goal is to meet the needs of each participant. This ensures results from her programs and how she continues to grow herself.
You are the best organized person I know in this world!
I think you know how much I admire what you are doing.
I am a fan! – Letitia Baldrige, Author & Etiquette/Protocol Historian, 
Whether you are in need of an excellent speaker or trainer, or you are seeking a credible and informative professional to provide an interview, Gloria will leave a motivating impression. The offerings on this menu are her most popular and give you an idea of what can be accomplished.
As an Inspirational Speaker, Here's What Gloria Will Do for You:
Inspire others to overcome life's obstacles
Motivate individuals to discover and use their inner gifts
Share messages of hope and determination
How?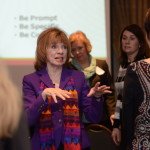 Gloria connects with her audience and inspires a powerful mental, spiritual, and physical desire for positive change. She creates speeches and programs that engage humor, utilize audience participation, and deliver inspiration. Her own determination to overcome life's obstacles has given her purpose. It has inspired her to focus on what others can do in their own lives to make the changes necessary to live a better quality of life; in whatever form is meaningful to them.
She will inspire you to capitalize on your own gifts and talents to draw people to you and create success in your personal and professional life. For example:
When Life Knocks You Down, Get Back Up! Gloria offers stories of hope and inspiration about not letting challenges keep you down, and about emerging stronger and more successful than before. As a three-time near-death survivor, she has walked her talk!
Develop the "He-ro" or "She-ro" in You! We all have what it takes. Make that person in the mirror stronger, smarter, funnier, and more successful than you ever thought possible. Don't wait for a tragedy or a life change to become that person. Do it now!
Gloria will customize these motivating ideas based on your theme or event. Your attendees will laugh (perhaps even cry a little) and ultimately alter their perception of who they are and what they can do in life.
Meeting Gloria will no doubt inspire you as well.
As a Seminar Leader, What Gloria Will Do for You
Provide partial or full-day programs or create a seminar series
Customize workbooks or engage her book series
Design interactive activities
Utilize assessments prior to the seminar and share the outcome
Debrief two weeks following the seminar to be sure objectives are met
How?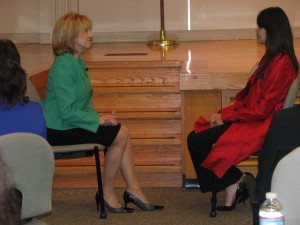 Gloria takes an "experience the learning" approach. She uses interactive activities and group involvement; thereby, assuring that her participants experience the confidence they need to be their professional best.
Gloria continues to train extensively in the protocol, image, etiquette, and cultural diversity fields. She continually adapts her programs to each new wave of technical and social change.
What does this mean for you?
You can be sure that Gloria's programs are not only entertaining, they are relevant and topical. She has the gift of speaking to many while making each person feel as though they are the only one sitting in the audience.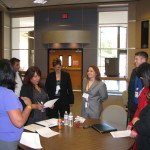 As a Trainer, What Gloria Will Do for You:
Share her legacy by offering SME (Subject Matter Expert) training modules and books
Be available to teach your trainer or facilitator how to deliver SME programs
Provide a comprehensive license/certification program
Gloria has been training people for years. What she trains audiences to think, do, and believe isn't the main objective. She trains people to make positive changes in their lives (and the lives of their team) using a variety of strategies. Whether she is convincing people that their appearance and behavior directly affect success in their career and in their life, or whether she is inspiring people to embrace and develop their own confident sense of self, she is being a catalyst for positive change in so many lives. She will share her extensive experience and training know-how with your training team.
Her enthusiasm is infectious, and people leave her training sessions inspired to create new opportunities for success and happiness for their respective classes or sessions. She can turn a training seminar into an experience of hope and possibility.
Gloria will use her own proven programs to train or she will create sessions according to her clients' specific needs. This is what makes her invaluable as a trainer: her passion for whatever material she is conveying. Quite frankly, it makes her one of the best in the business.
As an Image Consultant, What Gloria Will Do for You:
Develop a program for image enhancement by taking a finishing school for executives' approach
Demonstrate how to use one's personal presence (appearance and body language) and charisma as the first step in selling visual credibility
Guide individuals on how to take their social skills to the next level
How?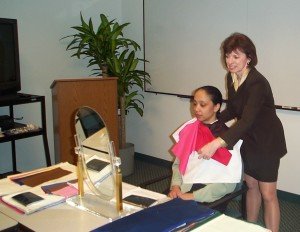 Gloria demonstrates how to be in touch with who you are and to project yourself through your personal style. Gloria recommends that you avoid trends and not become a fashion victim by wearing what is popular if it is not in your best interest. Begin by understanding your unique style and attributes.
First, you need to know your color pallet (colors that work with your eyes/skin/hair)
Next, understand how you are proportioned in relation to the design or style
Then, allow your personality to shine through
The colors that you wear should enhance YOU! Your style may be one of five looks or a combination of two or three. Whatever it is, it is "uniquely you," and it sends a message before you even say a word— it needs to make you appear "believable." 
This is how you achieve the "IT" factor!
Can you learn style? Absolutely!  Some people seem to be born with an amazing sense of style. But don't worry if you do not possess the style gene. Interpreting your own personal style, through the use of clothing and accessories, is just the start. Style is also movement, expression, and attitude.
Gloria started out in the mid-eighties specializing in color analysis and fashion design. In fact, she achieved wide recognition for her fashion workshops in which she coached people to make the most of their personal style by creating an impressive look without having to spend a fortune. She will do the same for you.
As an Event Specialist, What Gloria Will Do for You:
Serve as your adviser as you plan an event to be sure every detail is addressed
Participate or commentate fashion shows and seminars
Volunteer her expertise at fundraisers and community events
How?
Gloria uses her experience as a protocol advisor for Motorola at a past Olympics and preparing staff for corporate anniversary events to serve as the foundation for event planning. She has also served as a petite spokesperson for Filene's of Boston and has commentated several fundraising fashion shows utilizing local celebrities as models.
Have something in mind for a young audience? Here are a couple of ideas: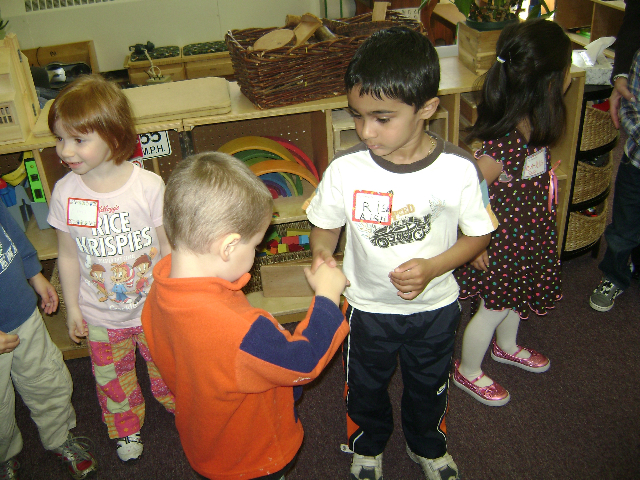 Children of Executives or Petite Protocol—Children learn to become more mannerly and confident as individuals and a source of pride for their parents. Class includes a dining etiquette meal with their parents.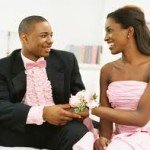 Prom Poise—Imagine your teen opening the door for his date (or having the door opened for you), walking with confidence in formal attire and shoes, and handling the dining experience with class on your very first formal occasion. These are invaluable life skills that prepare students for their adult life.
Whatever Your Need,




Gloria is Your Resource