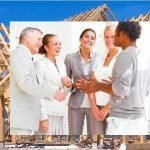 How to Project a
Powerful Image and Acquire
Impressive Interaction Skills 

 
Developing a powerful image and possessing an impressive interaction skill set is like constructing a house. Start with a solid foundation and finish with an indestructible structure so the house can withstand an unexpected event. Do the same with your image and then take your interaction skills to a higher level! Skip even on step and your efforts could collapse. Participants will leave this seminar with skills to meet the following goals:
Greet and interact with people in a professional and confidence-inspiring manner from the introduction and conversation to business card exchange and follow-up.
Banish feelings of awkwardness when interacting with current or potential business partners from casual to formal meetings. Make your departure as memorable as your greeting!
Discover the formulas and personal strategies that make it all work. Apply these personal formulas to a variety of situations (interviews, meeting over meals, networking events etc.), to become more comfortable and effective in everything you do.
Class Structure
You will practice each phase of the training. By knowing, practicing, and engaging the interaction tips and formulas, you will project a commanding first impression, perfect an impressive greeting (from name exchange to handshake), engage in a dynamic interaction, and depart with a follow-up plan. serves as your class handbook.
"You often hear: You never get a second change to make a good first impression. This statement is intimidating when you have from seven to seventeen seconds to impress or not impress someone. When I first attended Gloria's workshop, I was hooked! Since then, I have hired Gloria for several workshops in different states. Over the years, I have used the techniques that I have learned from her and they have helped me boost my confidence whenever I find myself in an unfamiliar setting. Gloria, thank you so much! I look forward to working with you for many more years." 
Bring this seminar to your organization
Contact us for details.