E-mail Gloria to discuss: A resource for your article, news feature, or book.
___________________________________________________
Toll Free: 844-991-2660
Direct/Cell: 602-882-8493
E-mail: [email protected]

Frequently Asked Questions
Do you offer private sessions?
Absolutely! They involve personal assessments, off-site personal shopping, and follow-up coaching.
What size of group is too large?
Depends on what needs to be accomplished, the table setup, and size of room.
How do you structure your fees?
Investment is based on your needs and budget. A proposal approach offers investment options and is preferred.
Are your programs the same content for all groups?
They are customized to meet training objectives and needs of each group. No one program is exactly like another.
Can we video tape your presentation?
There is an extra fee and copyright guidelines to consider.
Can we buy your visual aids?
Our visuals aids are part of our SME training modules.
Visit Our Other Websites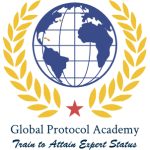 GlobalProtocolAcademy.com
Subject Matter Expert Training in Image, Etiquette, and Protocol
ArtOfProfessionalConnections.com
Professional Development Book Series
GlobalBusinessProtocol.com
Cultural Etiquette and Protocol Blogs and Philanthropy Spotlight
Memberships